I downloaded some movies from iTunes, and I transferred them to my USB flash drive, but the LG OLED65G6P OLED TV can't read the .m4v files. Why? How can I play iTunes M4V movies on LG OLED TV? – Dave Stevenson
About OLED
OLED televisions offer exceptional images at exceptionally high prices. OLED stands for Organic Light Emitting Diode. Each pixel in an OLED display is made of a material that glows when you jab it with electricity. Kind of like the heating elements in a toaster, but with less heat and better resolution. This effect is called electroluminescence, which is one of those delightful words that is big, but actually makes sense: "electro" for electricity, "lumin" for light and "escence" for, well, basically "essence."
Maybe you just bought a new LG OLED TV and were wondering whether you can play iTunes M4V movies on LG OLED TV via USB port. The answer is No. You can't install iTunes onto any LG OLED TV or Smart TV, and movies purchased from iTunes store cannot play on LG TV. In the following paragraphs, you are going to know why M4V iTunes video cannot play on LG OLED TV and how to make iTunes movies playable on LG OLED TV.
Why do iTunes M4V videos not work on LG OLED TV
There are two reasons why purchase or downloaded iTunes movies cannot play on the LG OLED TV.
1. Videos purchased from iTunes store are protected by Apple DRM, which prevents you from playing the files on non-Apple devices or players. LG OLED TV is no exception! What you need to do is to remove DRM protection from iTunes videos before transferring them to LG OLED TV.
2. M4V is not supported by LG OLED TV. According to the official site, Nook color only supports the playback of MP4 and Adobe Flash Player video files. So in order to play M4V on Nook Color, you will need to convert iTunes M4V videos to LG OLED TV compatible video files like H.264 MP4.
How to play iTunes purchased M4V videos on LG OLED TV
Having known why you cannot play iTunes purchased movies or TV shows on LG OLED TV, now what you need is a tool that can both crack iTunes DRM protection and convert M4V to LG OLED TV supported formats. Here M4VGO is highly recommended to help you finish the task. With it, you can easily and fast strip DRM from iTunes M4V and convert M4V to MP4 for LG OLED TV. Download it now and check out the steps below.
Free download iTunes to LG OLED TV converter:
Supported models
OLED77G6P, OLED65G6P, OLED65E6P, OLED55E6P, OLED65C6P, OLED55C6P, OLED65B6P, OLED55B6P, 77EG9700, 65EG9600, 55EG9600, 55EG9100, 65EF9500, 55EF9500, 55EC9300, etc.
1. Import iTunes M4V files
Install and run the LG OLED TV iTunes Converter. The main interface of M4VGO is as below. You can either click "Add files" to load the iTunes movies to the DRM removal for converting or simply drag and drop media files to the source pane.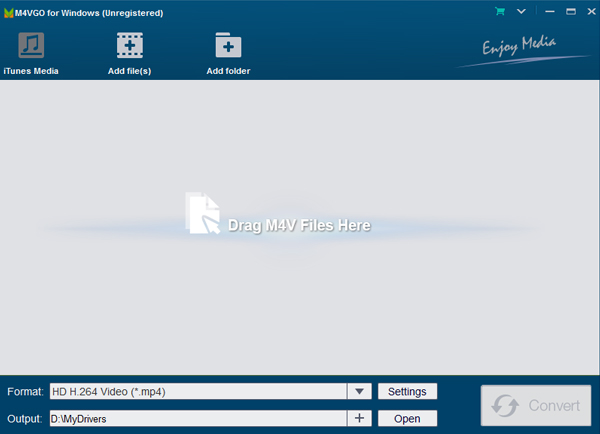 2. Choose output format
Now choose the format for LG OLED TV. Click "Format" and click "Common Video" then choose MP4 (Lossless) as the output video format. If you like, you can then click "Settings" to adjust the video encoder, resolution, frame rate, bit rate, etc.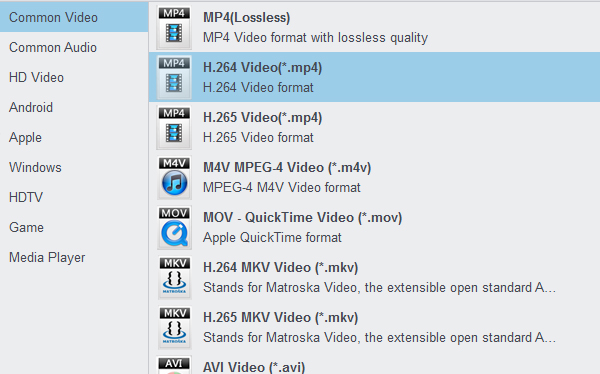 3. Convert iTunes M4V to LG OLED TV
When are the settings are done, go to the last step: tap "Convert" buton on the iTunes to LG OLED TV Converter main interface to starting converting DRM-ed iTunes movies to LG OLED TV friendly DRM-free MP4 video files. When the conversion finishes, you can hit "Open" button to locate the converted videos and then transfer them to your USB flash drive or device with ease.
Tip: How to play iTunes movies via USB port?
1) Connect a USB memory stick or USB cable of a digital device to the USB 2.0 port.
2) Select Media Play.
3) Select one category from Photo, Music, and Movie.
4) Select one file from file lists to view.